COURSE OVERVIEW
This course prepares you for the exam leading to the Business Relationship Management Professional Certification.
The Business Relationship Management Professional (BRMP®) training and certification program is intended as a comprehensive foundation for Business Relationship Managers (BRM) at every experience level, with the training and certification designed to provide a solid baseline level of knowledge regarding the BRM role and how well-cemented and effective BRM disciplines can positively impact overall business results.
THE "HOUSE OF BRM"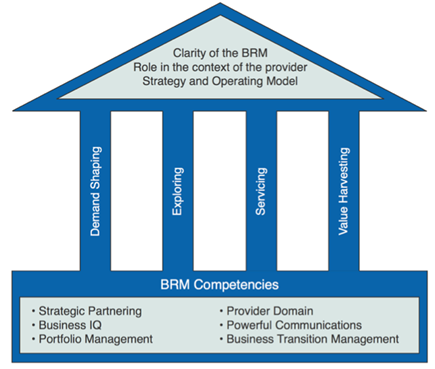 This comprehensive course introduces you to, and provides details for building "The House of BRM", which includes the following three key aspects of Business Relationship Management:
The "Foundation" supports the BRM role and ensures it has the competencies to be effective and deliver value to both the provider organization and its business partners.
The "Pillars" define the BRM space in terms of Core BRM Disciplines: Demand Shaping, Exploring, Servicing and Value Harvesting.
The "Roof" protects Business Relationship Management as a key aspect of provider capability. It does this by ensuring clarity around the role, discipline, and organizational capability of Business Relationship Management in the context of the Provider Strategy and Operating Model.
There is also focus and details provided for the Four Core BRM Disciplines:
Demand Shaping stimulates, surfaces and shapes business demand for provider services, capabilities and products. It ensures that business strategies fully leverage provider capabilities, and that the provider service portfolio and capabilities enable business strategies. Most importantly, Demand Shaping is focused on optimizing the business value realized through provider services, capabilities and products—that low value demand is suppressed while higher value demand is stimulated
Exploring identifies and rationalizes demand. Business Relationship Management helps sense business and technology trends to facilitate discovery and demand identification. Exploring is an iterative and ongoing process that facilitates the review of new business, industry and technology insights with potential to create value for the business environment. The key benefit of this discipline is the identification of business value initiatives that will become part of the provider portfolio of services, capabilities and products
Servicing coordinates resources, manages Business Partner expectations, and integrates activities in accordance with the business partner-provider partnership. It ensures that business partner-provider engagement translates demand into effective supply requirements. Servicing facilitates business strategy, Business Capability Road mapping, portfolio and program management
Value Harvesting ensures success of business change initiatives that result from the exploring and servicing engagements. Value harvesting includes activities to track and review performance, identify ways to increase the business value from business-provider initiatives and services, and initiates feedback that triggers continuous improvement cycles. This process provides stakeholders with insights into the results of business change and initiatives
WHO SHOULD ATTEND?
IT, HR, Finance AVPs VPs, Directors & Managers
Business Relationship Managers or those in similar roles
Quality Managers & Service Level Managers
Portfolio Managers
Project Managers
Business Analysts
Enterprise and Service Architects
External Service Providers
Representatives of shared services organizations
Anyone interested in maximizing business value
About the trainer
Rajiv is an Accredited Trainer for DASA-DevOps, DOI-DevOps Foundation & Leader, DevOps Essentials (Pink Elephant) & Professional Cloud Service Manager (PCSM EXIN-CCC). He is also APMG & Peoplecert accredited Trainer for ITIL Expert Service Lifecycle & Capability Modules, ITIL Practitioner, COBIT 2019 Bridge & Foundation, COBIT 5 Foundation-Implementation-Assessor, BRMP, Lean IT Foundation, Sourcing Governance, ISO 20000 Foundation, Lead Auditor & Practitioner. Rajiv is a Business Savvy Technologist & Digital Transformation evangelist with proven track record of generating Value from IT Services by leveraging broad industry, technology and global Best Practices experience to integrate IT with Business, optimize the IT Service processes, manage outsourcing, identify controls to manage risk, compliance and security. He has Performed leadership & practitioner roles in multiple global IT Service Provider, End-User and IT Best Practice Consulting & Training Organizations, which brings unique experiential learning to deliver IT Services, Consulting & Training to meet business objectives of Customers & Service Providers. Rajiv has Over 20 years of experience in global IT Service & End-User Organizations and over 9 years of experience in IT Best Practice Consulting & Training Organizations. Rajiv has conducted thousand's of certification based & customized workshops globally leveraging multiple IT Best Practice frameworks for Top Management, Middle Management & Practitioners for Customers like Accenture, IBM, Capgemini, E & Y, PwC, BCG, Dell, Cognizant, Wipro, Infosys, HP, Adobe, HCL Technologies, Sopra Steria, NIIT Technologies, Hexaware, ANZ, RBS, JP Morgan Chase, World Bank, Max Life Insurance, Metlife, Airtel, Uninor, Aircel, Colt, MTS, Orange, Ericsson, GPIT, Batelco, ONGC, ADNOC, BAPCO, Ford IT, Volvo IT, M&M, Ranbaxy, UnitedHealth Group, Unilever, Pepsico, British Council, Emirates Group, United Nations and UNICEF.